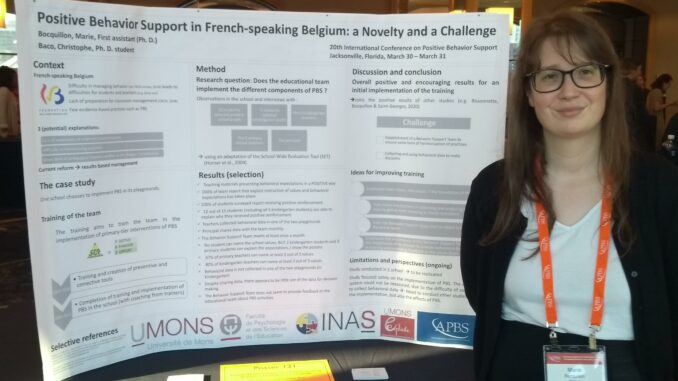 Le 30 mars 2023, Marie Bocquillon et Christophe Baco ont présenté un poster intitulé "Positive Behavior Support in French–speaking Belgium: a Novelty and a Challenge" lors de la 20e conférence internationale sur le Soutien au Comportement Positif organisée par l'Association for Positive Behavior Support à Jacksonville Floride. L'occasion d'avoir des échanges riches au sujet de l'implémentation du Soutien au Comportement Positif avec des chercheurs issus de différents pays.
On March 30, 2023, Marie Bocquillon and Christophe Baco presented a poster entitled "Positive Behavior Support in French-speaking Belgium: a Novelty and a Challenge" at the 20th International Conference on Positive Behavior Support organized by the Association for Positive Behavior Support in Jacksonville Florida. This was an opportunity to have rich exchanges about the implementation of Positive Behavior Support with researchers from different countries.
Pour télécharger le poster, cliquez ici / To download the poster, click here
Abstract:
In French-speaking Belgium, the Teaching and Learning International Survey (2018) showed that many teachers experience difficulties in establishing a serene classroom climate (Quittre et al., 2019). Students' behavioral difficulties can have significant consequences for students (dropping out of school) and for teachers (leaving the profession). It is therefore essential to implement measures that have been shown to be effective, such as Positive Behavior Support (PBS) in schools.
However, research highlighting effective practices such as PBS is little known in French-speaking Belgium. Some educational teams are nevertheless turning to PBS to create a safe environment that promotes learning.
However, the implementation of PBS in this context remains a challenge because of the great pedagogical freedom written in the Belgian Constitution. This means, among other things, that each school and teacher can choose the practices they want to implement in order to achieve the objectives of the curricula and to manage the behavior of the pupils (de Bouttemont, 2004).
This proposal will therefore present the evaluation of the implementation of PBS in the playgrounds of a French-speaking Belgian nursery and primary school that called on our team to be trained in this system. For this purpose, an adaptation of the School-Wide Evaluation Tool (Horner et al., 2004) was used. This evaluation protocol allows the researcher to evaluate the implementation of PBS based on observations in the school and interviews with the principal, teachers and students.
The results indicate that the educational team successfully implemented several components of PBS (Sugai & Horner, 2009) such as explicit instruction of behaviors (Austin & McIntosh, 2019; Knoster, 2014). However, other components of the system appear to be more challenging for the team, including the establishment of a "Behavior Support Team" (Terrance et al., 2009) to ensure that the project is implemented by all teachers. The use of data on student misbehaviors to make decisions (Sugai et al., 2000) is also poorly implemented. These results will help to improve the training offered for further implementation of PBS in other French-speaking Belgian schools and in other contexts characterised by great pedagogical freedom.
The presentation will be conducted in the following way: the authors will be available to present their poster and answer questions from participants.
This proposal supports the Mission of APBS by presenting results related to the implementation of PBS in an educational context where it is little implemented and where its implementation and maintenance are a challenge. It thus provides leads to improve the quality of life of students and teachers in French-speaking Belgium, but also in other contexts where the implementation of PBS is a challenge.